Embarking on a journey to Iceland is on many bucket lists and it can be a huge struggle to make every decision. Tailoring your own Icelandic personalized tour allows you to create a truly unique experience according to your individual preferences and interests. In this article, we will provide valuable insights and practical advice for designing your dream Icelandic tour. Although we are partial to private tours, we will be highlighting the benefits of customized itineraries and the expertise of experienced driver guides. Whether you're considering day trips from Reykjavík or multi-day expeditions across the country, we can help you design a perfect itinerary.
Customization: Day Trips vs. Multi-Day Adventures
When crafting your ideal Icelandic adventure, it's essential to decide between day trips from Reykjavík or multi-day expeditions that span various regions. Opting for day trips is perfect if you have limited time or prefer the convenience of a home base in Reykjavík. This way, you can explore nearby attractions like the Golden Circle, Reykjanes Peninsula, South Coast, or Snæfellsnes Peninsula. On the other hand, multi-day expeditions allow you to venture further afield, uncovering hidden gems and embracing the diverse landscapes that make Iceland so extraordinary.
Choosing how many days to spend in Iceland
Choosing the ideal number of days to visit Iceland is a crucial decision for any traveler. Iceland offers a wealth of experiences that can easily fill your itinerary. However, the right duration of your trip depends on various factors, including your interests, budget, and travel goals. Another factor to consider is how intense you want the itinerary to be. Do you want every day filled with activities or do you need some downtime to relax? A great way to incorporate some downtime into your schedule is to enjoy some of the geothermal baths that you can find all over the country.
First and foremost, it's essential to understand that Iceland's size and geographical features play a significant role in planning your stay. While the island may seem small compared to other countries, its abundance of attractions requires sufficient time to fully explore. From the iconic Golden Circle route to the stunning South Coast, each region offers a unique blend of waterfalls, geothermal areas, glaciers, and black sand beaches. To truly appreciate the diverse beauty of Iceland, it is advisable to allocate at least a week or more for your visit.
You can do a tour around the island in a week but you will have to skip some attractions and most likely the Westfjords.
If you have limited time available, shorter day trips from Reykjavík are a great option. A four to five-day itinerary could allow you to cover popular highlights like Reykjavík, the Golden Circle, Snæfellsnes, Reykjanes, and the south Coast. This timeframe would offer a taste of Iceland's natural wonders and cultural experiences, but keep in mind that you may have to prioritize and potentially miss out on some lesser-known gems.
On the other hand, if you have the luxury of an extended vacation, spending ten days or more in Iceland will provide ample opportunity for a comprehensive exploration of the island. This duration allows for a more in-depth exploration of lesser-visited regions such as the Eastfjords, the Westfjords, and the Highlands. It also allows for flexibility to engage in outdoor activities like hiking, glacier walks, snowmobiling, river rafting, and even multi-day treks.
Consider your specific interests and preferred activities when deciding on the duration of your stay. If you are a photography enthusiast, you may want to allocate extra time for capturing the stunning landscapes during different lighting conditions. Wildlife lovers might want to schedule time for whale watching or bird-watching excursions. If chasing the elusive Northern Lights is high on your bucket list, keep in mind that a longer stay increases your chances of witnessing this breathtaking natural phenomenon.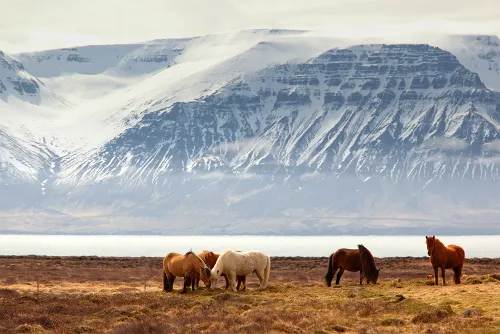 Driving in Iceland usually takes a bit longer than the time Google Maps allocates for your trip. You'll most likely be inspired to stop along the way to take pictures, stretch your legs, and buy some coffee or local food.
Weather conditions can greatly impact your travel experience in Iceland. The island's unpredictable climate often brings sudden changes, including rain, wind, and snow even during the summer months. Most tours in Iceland do not cancel anything due to rain or bad weather in general. However, if you have booked whale watching it's important to keep up to date if the trips are still scheduled because the weather out on sea can be very different than on land.
Lastly, take into account the logistics of getting around the island. While Iceland has a well-maintained road network, some remote areas may require more time to access. If you plan to self-drive, consider the driving distances and the time needed to reach each destination. It's important to check road conditions and weather before you start driving. Alternatively, joining guided tours or hiring a local driver can help optimize your time and ensure a stress-free experience.
The Advantages of Personalized Tours:
One of the advantages of choosing a personalized tour is the convenience it offers. Rather than spending countless hours researching and arranging every aspect of your trip, a dedicated driver guide specializing in Iceland can handle all the logistics for you. From accommodations and transportation to activity bookings, leaving the planning to the experts allows you to relax and fully immerse yourself in the Icelandic experience.
Seasoned Guides: Unlocking Iceland's Hidden Secrets
A key highlight of a customized tour is the opportunity to be accompanied by experienced guides who possess an intimate knowledge of the country's culture, history, and lesser-explored locales. These experts are well-versed in Iceland's rich tapestry and can offer unique insights, captivating stories, and access to off-the-beaten-path destinations. Their expertise enhances your journey, ensuring you get the most out of your Icelandic adventure.
Tailoring Your Experience: Unforgettable Moments Await
When designing your dream Icelandic tour, take into account your interests and desires. Iceland presents an array of activities and experiences suitable for every season and focus. Here are some to consider incorporating into your customized itinerary:
a. Chasing the Northern Lights:
If witnessing the ethereal dance of the Northern Lights tops your bucket list, plan your visit during the winter months, particularly from December to February. Accompanied by experienced guides, venture to optimal viewing locations far from light pollution, maximizing your chances of encountering this awe-inspiring natural phenomenon. You can also opt into a northern lights cruise as well as watching a unique movie to learn more about the aurora borealis.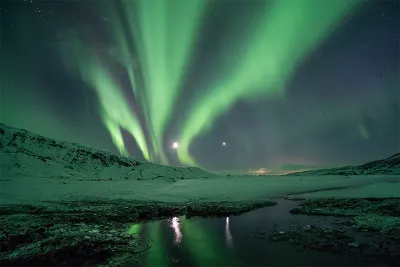 b. Immersing in Glacial Landscapes:
Iceland's majestic glaciers offer a captivating realm waiting to be explored. Engage in exhilarating adventures like glacier hiking, discovering enchanting ice caves, or embarking on guided super jeep tours across icy terrains. Expert guides prioritize your safety and share profound knowledge about these marvels of nature. For any glacier activity you need to be on a guided tour for safety reasons.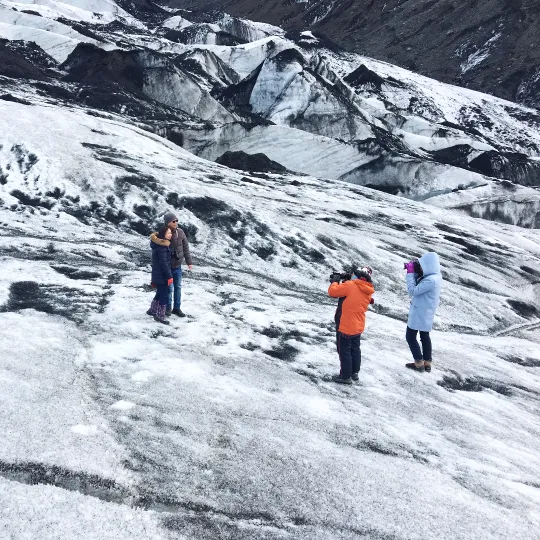 d. Connecting with Nature's Splendor:
Iceland's unspoiled landscapes offer countless opportunities for nature enthusiasts. Whether it's hiking through dramatic fjords, rejuvenating in geothermal hot springs, or marveling at waterfalls, personalize your tour to encompass activities that allow you to forge a deep connection with the raw beauty of the country.
Seasonal Considerations: Selecting the Perfect Time to Explore
The season you choose for your Icelandic adventure will play a significant role in shaping your experience. Each season offers unique attractions and activities:
a. Winter (October to April):
Winter unveils a wonderland with snowy landscapes and the chance to witness the Northern Lights. It's an ideal time for activities such as exploring ice caves, exhilarating snowmobiling adventures, and indulging in the tranquility of natural hot springs.
b. Summer (May to September):
Summer bestows long daylight hours, vibrant greenery, and abundant opportunities for hiking, birdwatching, and traversing the breathtaking highlands. It's the perfect season for capturing Iceland's diverse flora and fauna through your lens.
What is a personalized tour? and how does our process work?
To start customizing your dream tour, simply email us at [email protected]. We will work closely with you to understand your interests, preferences, and travel aspirations. We'll curate a personalized itinerary that showcases the very best of Iceland, introducing you to local culture and tradition.
By crafting your ideal Icelandic adventure through a personalized tour you gain flexibility and freedom compared to a large group tour as well as the peace of mind that you are getting the best experience compared to if you do a self-drive trip. Whether you opt for day trips from Reykjavík or immersive multi-day expeditions, the convenience, expertise of seasoned guides, and unforgettable experiences await. Take the time to consider your preferences, select the ideal season to fulfill your aspirations, and entrust knowledgeable guides to lead you on a journey through the wonders of Iceland.