Iceland is known for its otherworldly and barren landscapes. One of the unique aspects of Icelandic nature is the stunning volcanic mountains. Mountains in Iceland are relatively small and completely barren. They can be colorful with volcanic rocks and various colorations, such as bright red, green from moss, black from volcanic activity, or white when covered by glaciers.
Before venturing to explore these magnificent Icelandic mountains, it's important to be aware of safety precautions and know where to find the most beautiful and unique mountains.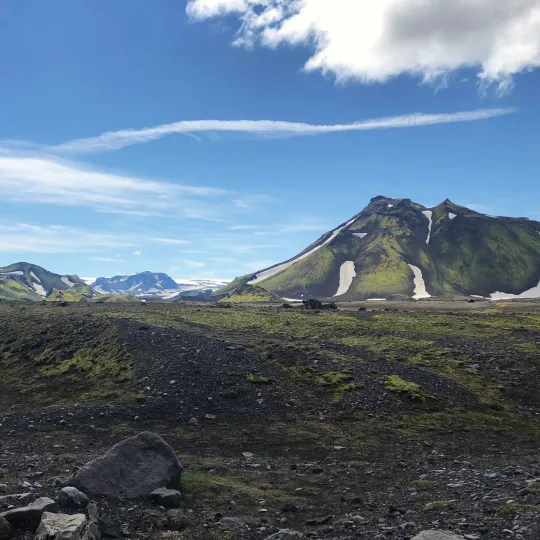 This article will discuss the following topics and answer a few questions:
Top 10 safety tips when hiking the mountains in Iceland
The most famous mountains in Iceland
Lesser known Icelandic mountains
Why are the mountains in Iceland so small?
Folklore related to mountains in Iceland
Types of cars needed to drive on mountain roads
Crossing rivers on a 4×4 vehicle
Mountains you can reach without a 4×4 car


Top 7 safety tips when hiking the mountains in Iceland

Iceland is incredibly safe but it's important to keep a few safety tips in mind when it comes to nature.
Bring enough water and food

Carry essential supplies, including water, food, a map, a compass, and a first aid kit. It's better to be over prepared than get into trouble in Icelandic nature.
Wear layers

Always wear layers in Iceland since the weather changes so rapidly. That way you can remove or add on layers depending on weather. It's also important to bring waterproof clothing since it rains a lot and when your clothes are wet wind cooling can be brutal.
Register at safetravel.is and tell people about your plans

Safe Travel has a safety system where you can submit a travel plan and that way rescue services will know where to look for you if you get lost. It's also a good rule to always let someone you trust know about your travel and hiking plans.
Always check the weather

It's a good rule to check the weather every morning before you start your day in Iceland.
Stay alert for sudden fog, which can reduce visibility considerably.
Follow the path

Usually there are some paths to follow, both to keep you safe and to keep nature safe. It can take years for nature to recover if you go off the path as well as the current path is usually the safest one.
Be aware of your surroundings

Be cautious of loose rocks and steep slopes. Even for experienced hikers this is an important safety tip to keep mindful of.
In case of an emergency you can call 112, the Icelandic emergency number.
The most famous mountains in Iceland

Kirkjufell

Kirkjufell Kirkjufell is the most photographed mountain in Iceland due to its peculiar shape and the way it changes depending on the viewpoint. It gained incredible popularity after being featured in the Game of Thrones series during the snow walkers' battle across the wall. There is a beautiful waterfall across from the mountain, providing an opportunity to capture both the waterfall and the mountain in a single photo.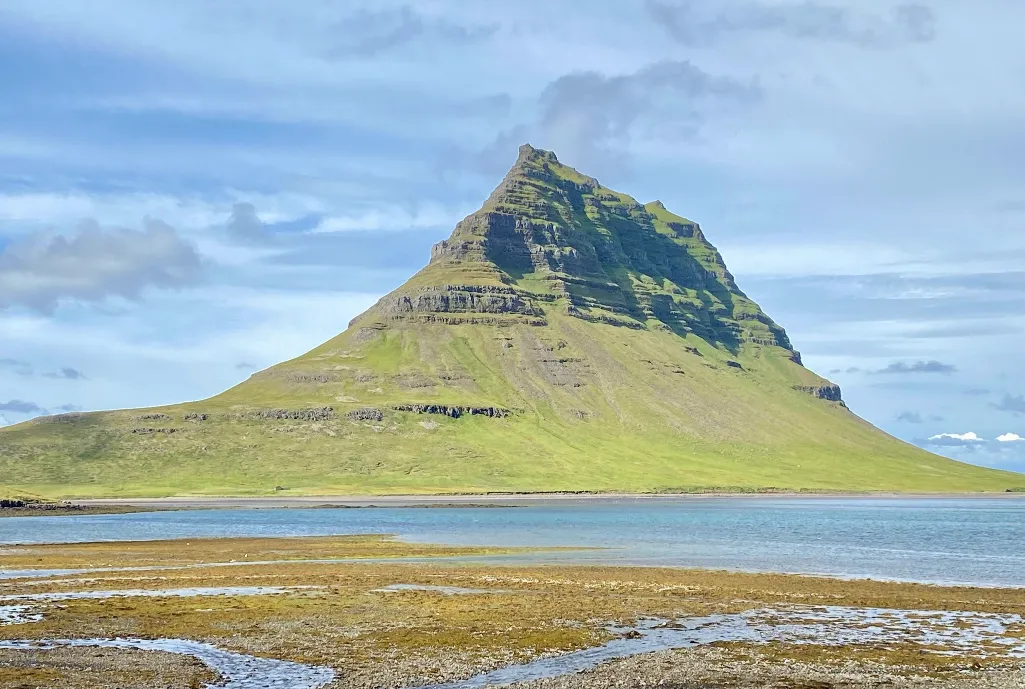 Bláhnúkur at Landmannalaugar

These mountains offer some of the most beautiful landscapes in Iceland and have become an increasingly popular hiking spot. They can mark the beginning or end of the Laugavegurinn hike, a four-day trek through the Icelandic highlands, surrounded by the unique barren landscape. For a shorter day hike, you can visit Landmannalaugar and enjoy an authentic Icelandic soak in the hot spring after the hike.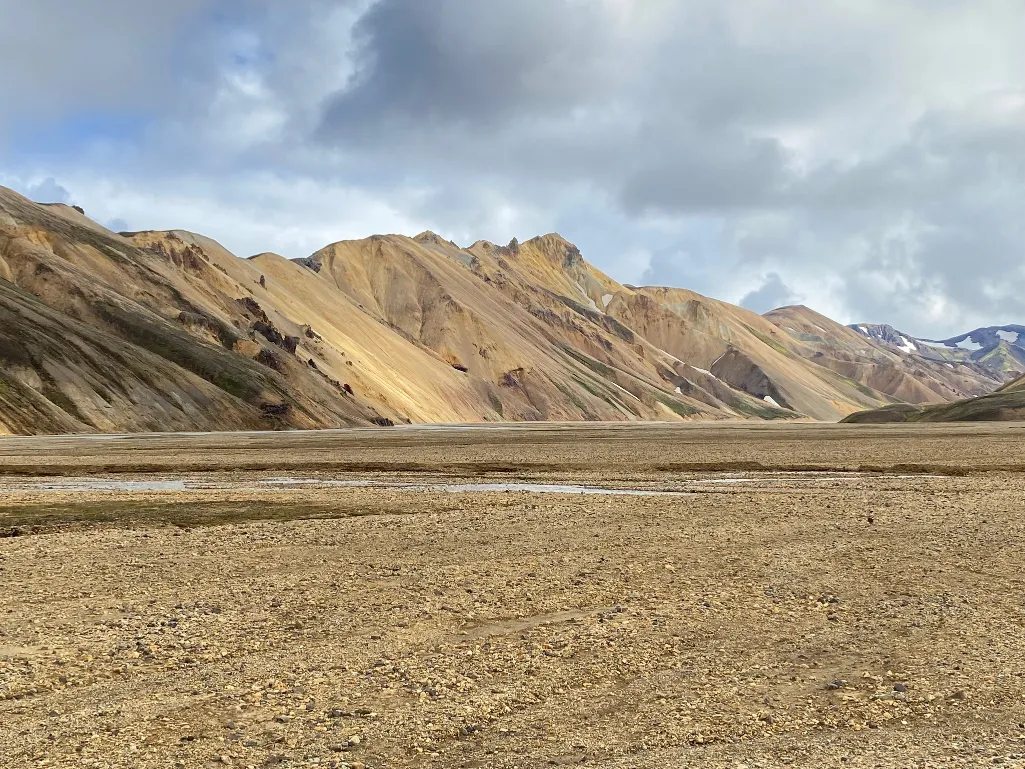 Rjúpnafell and Tindfjallahringur at Þórsmörk

Rjúpnafell and Tindfjallahringur at Þórsmörk Þórsmörk is another great location where you can view numerous mountains and gorgeous landscapes. To reach this location, you need to cross a few rivers, so comfort with river crossings and a 4×4 vehicle are necessary. Scheduled bus tours are available daily, or you can choose a private trip in a 4×4 vehicle with experienced drivers who can guide you through the area and show you the local way of experiencing nature in Iceland.
Eyjafjallajökull

Eyjafjallajökull This mountain gained fame after the volcanic eruption in 2010 that disrupted the flight schedule across Europe. Foreigners often struggle to pronounce its name, which means "island mountain glacier" in Icelandic. You can get a good view of Eyjafjallajökull when driving along the south coast of Iceland.
Eyja – island
fjalla – mountain
jökull – glacier
Vatnajökull

Vatnajökull is the largest glacier in Iceland and the second largest in Europe. This popular location offers boat rides on the Glacier Lagoon (Jökulsárlón), and you can get up close to icebergs on the diamond beach. Numerous volcanoes lie beneath the glacier, covering the area known as Vatnajökull.
Skaftafell National Park, located within Vatnajökull, provides opportunities for hikes and enjoyment of the park.
Vestrahorn/Eystrahorn/brunnhorn

This cluster of mountains in Stokksnes stands out against the barren landscape, evoking a sense of awe and making one feel small. Surrounded by rugged black sand and the ocean, this location is ideal for stunning photographs. Additionally, a viking village and a turf church are located nearby, adding historical and cultural significance to the area.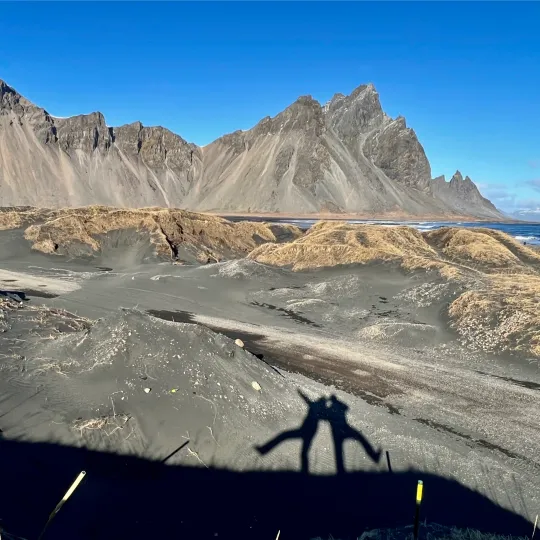 Hornbjarg

This is a truly unique place in the Westfjord. It is hard to reach but worth the effort. You need to drive to the Westfjords and then take a ferry across the fjord. You can either get a private tour, a group tour or alternatively you can hike for 6 days to reach Hornbjarg.
The steep cliffs at the edge of the country are a sight to behold and you won't find many tourists there as it is off the beaten path.
Lesser known Icelandic mountains

While the famous mountains in Iceland attract most of the attention, the lesser-known mountains also have their unique charm. These mountains may not have gained as much fame, but they provide an opportunity for solitude and exploration away from the crowds.
Reykjaneshyrna

Located in the Westfjords, Reykjaneshyrna is a cluster of mountains that offers an ideal hiking experience with excellent panoramic views of the surrounding area. The hike is relatively gentle, making it suitable for hikers of various skill levels. However, there is a cave in the area that is not easily accessible due to challenging hiking conditions. It's advisable to have some experience before attempting to explore the cave.
Víknaslóðir

Víknaslóðir is an extraordinary hiking trail in the east of Iceland, surrounded by majestic Icelandic mountains. The trail spans approximately 3-4 days and provides an opportunity to immerse yourself in untouched natural beauty, away from the crowds of tourists. Beginning in Borgarfjörður eystri and ending in Loðmundafjörður, this hike promises unforgettable landscapes and a sense of tranquility.
Búlandstindur

Shaped like a pyramid, Búlandstindur is an ancient Icelandic mountain believed to be around 8 million years old. With an elevation of 1069 meters above sea level, reaching the summit rewards hikers with breathtaking views. However, be prepared for a steep ascent and note that the trail may not be extensively marked, making it suitable for the most adventurous and experienced hikers.
þakgil

Þakgil, although relatively more well-known than other mountains on this list, is not among the most famous ones in Iceland. Its name, meaning "roof canyon," alludes to the beautiful canyon and camping area available for overnight stays. Situated near Vík village on the south coast of Iceland, Þakgil is easily accessible by all types of cars. However, having a 4×4 vehicle for the drive can enhance your experience and provide additional comfort during the journey. It's a worthwhile stop to include in your south coast tour itinerary.
Why are the mountains in Iceland so small?

There are many types of mountains in Iceland, active volcanoes, craters, glaciers, volcanos that were formed by an eruption under ice and then mountains that were formed before the Ice age and were eroded and formed by the ice throughout years.
The highest mountain in Iceland is Hvannadalshnjúkur at 2,110m above sea level. This isn't a lot compared to the alps that reach 4,809m in height.
The reason for this is that in most countries that have active volcanoes the earth's crust underneath the mountains is about 60 to a 100 km thick. In Iceland the crust is only 29 km and cannot carry mountains much higher than 2,000m. The mountains in Iceland will start to cave in when they reach a height over 2,000m.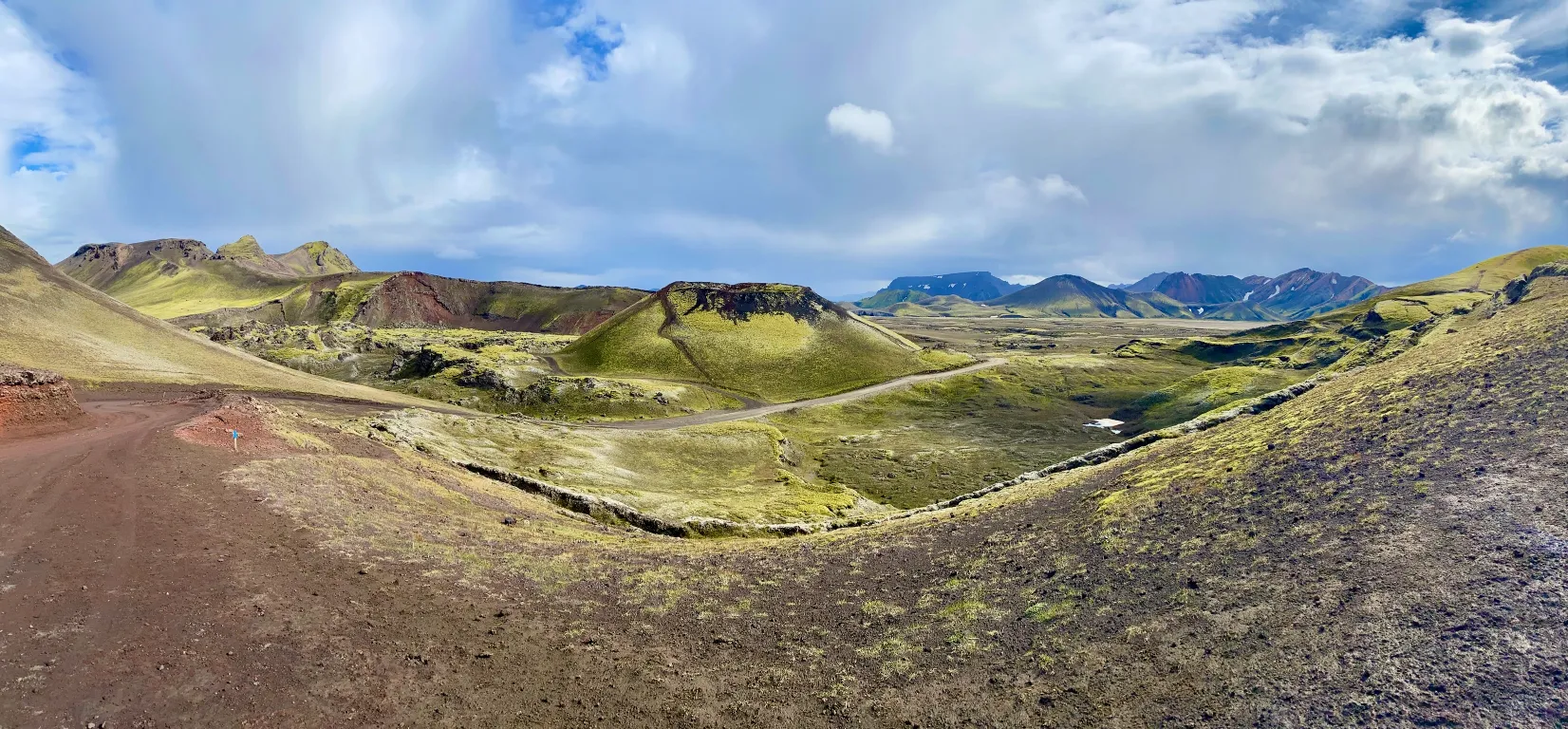 Folklore related to mountains in Iceland

Icelandic folklore is rich with stories about mountains, trolls, and hidden creatures. Many believe that mountains are inhabited by trolls, elves, and other mystical beings. These stories add an element of mystery and enchantment to the Icelandic mountains, making them even more fascinating to explore.
We believe that many of our odd shaped mountains were formed because the sun hit a troll and turned it into a rock. These stories are very popular in Iceland and usually tell the tale of a big troll wandering the Icelandic landscape, however these trolls can only wander at night because when the sun comes up they get turned to stone.
Before sunrise they need to be back in their homes, inside the mountains. Some trolls are not that lucky and don't make it home in time. These are the odd shaped mountains we see everywhere, tragic trolls that have been turned to stone trying to reach their home before sunrise.
Types of cars needed to drive on mountain roads

To reach some of these mountains you are going to need a 4×4 vehicle. Most roads in Iceland are paved and you don't need a 4×4 car for those but if you are planning on venturing off the beaten path and into the highlands you will definitely need a 4×4.
The roads to some of these Icelandic mountains are not paved and for Þórsmörk you need to cross rivers. You can find a 4×4 vehicle on our webpage, we recommend group G, group H and group I cars for these adventure road trips.
Crossing rivers on a 4×4 vehicle

There are a few safety tips to keep in mind when you are crossing Icelandic rivers on a 4×4 vehicle. It can be tricky to cross these rivers because the water level in rivers can vary by days and hours during the Icelandic summer.
You can try to walk across the river to find the shallowest part of it and where it would be most convenient to cross.
Drive no faster than 5km/h
Never change gears whilst crossing a river
Monitor other cars crossing first to see how they do it, they might be experienced drivers.
Don't cross the river where the water seems to be calm because that can be because the water is deep.
Aim to drive with the current instead of against it. This lowers the risk of water getting into your engine.
There is no insurance in Iceland that covers damages due to river crossing. This makes it important that you are at least slightly familiar with crossing rivers so that you won't get huge bills in case of any damages.
Always check conditions before you go.
Mountains you can reach without a 4×4 car

If you are driving on the ring road and don't plan on going off it much then a regular car is sufficient for you. Just driving around on the ring road gives you stunning views of all sorts of mountainous landscapes.
In most cases you can use a regular car and it's only Þórsmörk, Landmannalaugar, Þakgil, and some parts of the Westfjords where you would need a 4×4 car.
You can rent our cars at great prices either in Keflavík airport or Reykjavik airport. We provide excellent pick up services in central Reykjavík. Just write your hotel name in the comments and you will be picked up on the start day of your car rental and taken to the Europcar car park to receive your vehicle.
Icelandic mountains offer breathtaking landscapes and unique experiences for visitors and we hope that you enjoy them as much as we do.
Whether you choose to explore the famous mountains or venture off the beaten path to discover lesser-known gems, remember to prioritize safety, respect nature, and immerse yourself in the enchanting folklore surrounding these mystical Icelandic wonders.